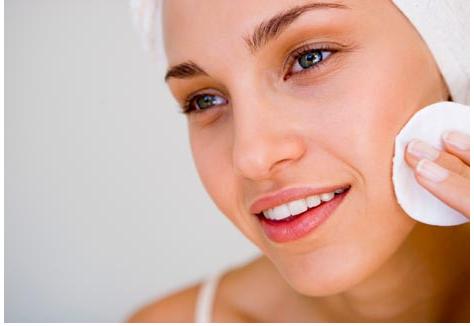 Beauty Tips: Get Rid of Acne for Smooth Skin
1. Slather on the sunscreen. We know, we know—you've heard it a million times, but wearing sunscreen is the single easiest way to look younger for life. "Ninety percent of wrinkles are from sun exposure," says Day. "It's so much easier to prevent the damage than it is to fix it afterwards." That means no slacking during winter months either, when rays are just as strong and can reflect off of buildings and sidewalks. Look for a formula that offers broad-spectrum protection to guard against UVA rays (the ones that cause premature aging) and UVB rays (one of the main causes of skin cancer). Try Philosophy Shelter Broad Spectrum Sunscreen in SPF30.
2. Clean your makeup brushes. A British study found that 72% of women never wash their brushes or sponges, even though they harbor dirt and bacteria which can cause breakouts. "You should wash loose powder brushes every two to three weeks, and those used to apply foundation once a week," says Jessica Wu, an LA-based dermatologist and author of Feed Your Face. Mix a couple of drops of gentle facial cleanser or shampoo and lukewarm water in a cup, swish your brushes around, rinse with lukewarm water, pat dry, and lay flat to air dry.
3. Munch on mixed nuts. Brazil nuts are rich in selenium, which increases skin elasticity and may decrease skin cancer, according to recent studies. Throw in walnuts—which are loaded with omega-3 fatty acids—to lower inflammation and put the brakes on breakouts, says Molly Morgan, Board Certified Sports Specialist Dietitian and author of The Skinny Rules. Finally, add some macadamias. "They're full of high quality oils and fatty acids that aid in skin repair and rejuvenation" says integrative practitioner Isaac Eliaz. Aim for a handful of each daily to reap their pore-perfecting benefits.
4. Start using serum. "It's much more concentrated than cream or lotion, so you tend to only need a small amount daily to see results," says Fran Cook-Bolden, Director of New York's Skin Specialty Dermatology. Look for one with antioxidants, the skin's major defense against free radicals and stress, and pentapeptides, which are a must-have when it comes to boosting collagen, the support structure that gives skin a firm, youthful appearance. Don't worry about spending a fortune on the ingredients; one of Cook-Bolden's favorites is Olay Regenerist Micro-Sculpting Serum, a sheer formula whose small molecules can dive deep into pores. For best results, apply to freshly washed skin; follow with sunscreen or moisturizer to lock in hydration.
5. Sanitize your Smartphone. According to a Stanford University study, that iPhone you can't keep your hands off of can get more germ-infested than a toilet in a subway bathroom. In fact, the glass touchscreens on mobile devices are so good at spreading viruses that sharing them may be almost as bad as sneezing in someone's face. Here's a scary thought: All those germs land right on your cheek and jawline every time you chat away, causing pimples and irritation. To keep your phone (and face) bacteria-free, wipe it down with an antibacterial wipe like Clorox Disinfecting Wipes a few times a day.
6. Put your skin stash in proper order. The sequence in which you apply your products could be even more important than the products themselves. Reach for those with the most active ingredients as soon as you wash and pat skin dry. "These are the most powerful, so you want them to come into direct contact with your skin," says Syed Amiry, a dermatologist practicing in Reston, Virginia. If you're using more than one active product (like an antioxidant serum and Retin-A), start with the thinner one. "Anything that's water soluble should go first, followed by the product that's thicker and creamier. If you do it in reverse, the heavier cream will block the ingredients of the lighter one from penetrating the skin, so they won't have any impact." If you need moisturizer, it's next up in line, followed up by—what else?—sunscreen each morning.